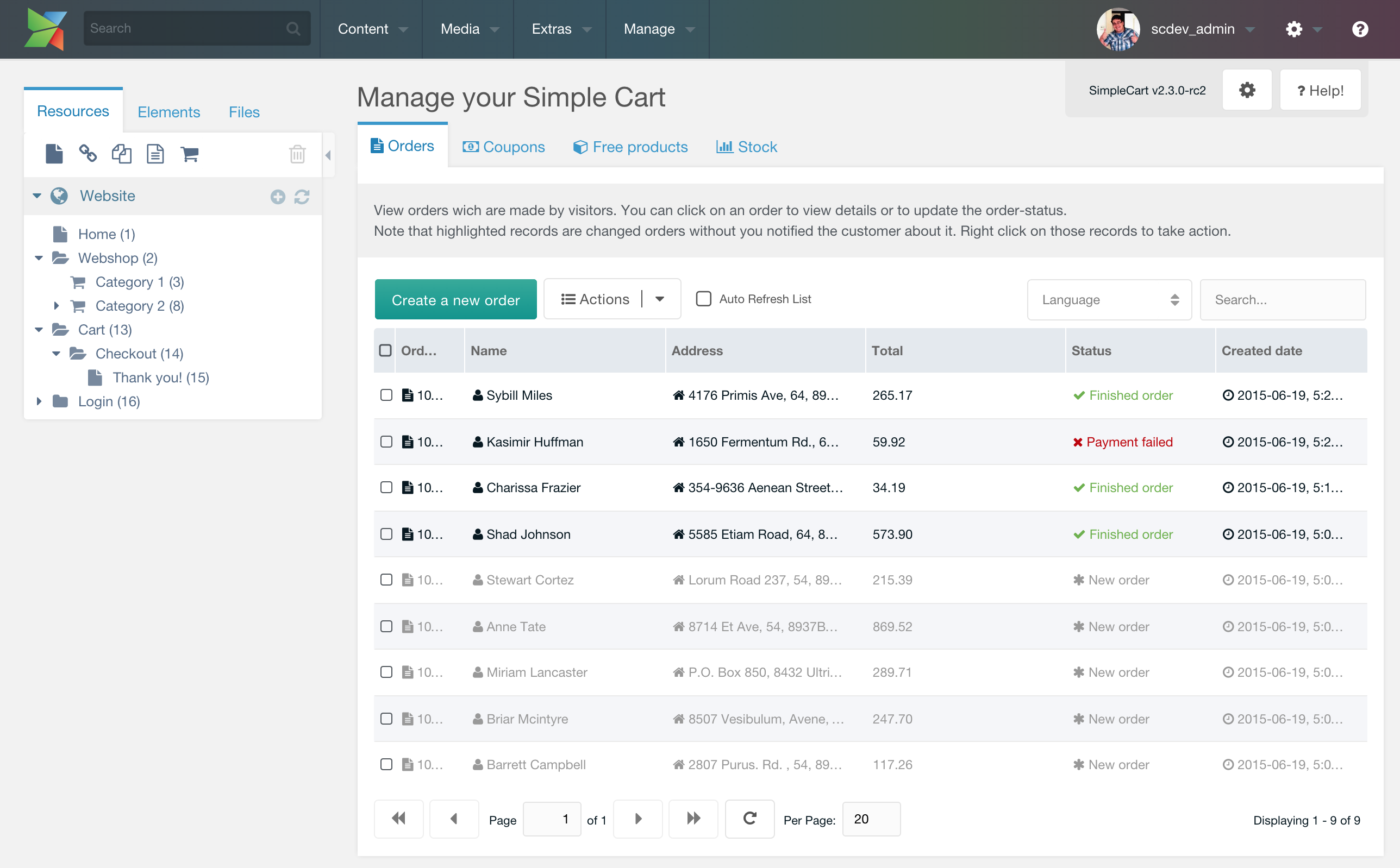 SimpleCart is an easy to use e-commerce solution with online payments, coupons and more for your MODX site.
Developed by: Bert Oost, Mark Hamstra
Current Version: 2.6.1-pl
Downloads: 636
Price: € 99* per site
SimpleCart is an e-commerce solution built for MODX Revolution. It uses standard MODX tools to let you build a fully-functional shop and checkout with full creative freedom. Now part of the modmore family.
---
Built with MODX, for MODX

SimpleCart works great with existing tools and extras such as FormIt and ContentBlocks. SimpleCart products are managed as custom resources, so you can use extras like getResources, getRelated, and Wayfinder to build the front-end functionality you need. All output can be tweaked through chunks, offering lots of creative freedom.

Accept PayPal, Credit Card and more

Start accepting payments right away with our free payment gateways for PayPal, Mollie, Stripe and Authorize.net payment providers through free installable packages. Or use the built in Bank Transfer method to handle payments manually to just use SimpleCart as, well, a cart.

Rule-based Taxes Built-in

SimpleCart comes with rule-based taxes, so you can apply Sales Tax or VAT to orders. Set up different tax rates for entire categories or individual products.

2 Custom Resource Types

For categories and products, SimpleCart has custom resource types to make managing your products simple. While still resources under the hood, the interface has been focused on the products.
---
SimpleCart powers hundreds of webshops around the world.
---
The feature complete SimpleCart Manager pages contain all the information you need to fulfil orders and to manage your shop.