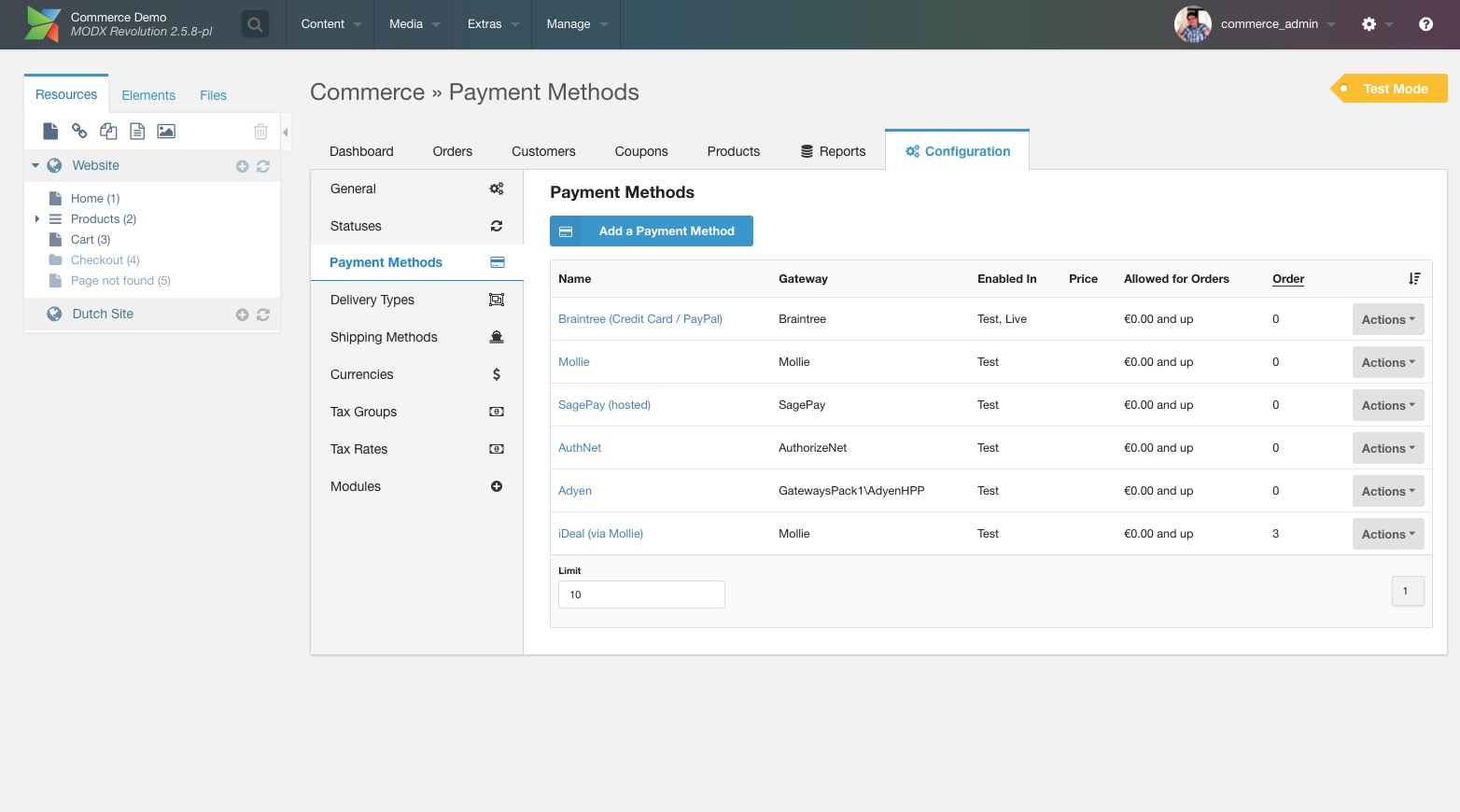 Commerce makes it easy to sell online exactly the way you want. Extend functionality with our Payment Methods and Modules or build your own.
Developed by: modmore
Current Version: 1.0.0-pl
Downloads: 611
Price: € 299* per site
Commerce makes it easy to sell online exactly the way you want. Extend functionality with our Payment Methods and Modules or build your own. Backed by our excellent support, Commerce is the best solution for creating an online store with MODX Revolution.
Commerce v1.0 is now available!
It took a little longer than expected, but Commerce v1.0 is now ready.
Hundreds of features, full creative freedom, powerful modules, and the best community in the world are shaping the future of e-commerce in MODX.
Businesses big and small are powered by Commerce, from wineries, fashion and non-profits, to e-learning and B2B services.
There is no "one size fits all" in e-commerce. Commerce meets the most common needs for selling online, and then provides a flexible foundation for bespoke solutions. Commerce grows with your needs.
#1: A Solid Foundation
We've taken the time to get the basics right and sweat the details.
Commerce keeps core product handling, calculations, and built-in functionality simple and predictable. By making it easy to test, extend, and maintain, we can promise you a stable platform to rely on.
And now that we're past v1.0, we're committed to ensuring backwards compatibility, too.
#2: Built to be extended
If anything, e-commerce is about flexibility, unique use cases, and third party integrations.
Dozens of extensions for Commerce and built-in modules are available, to add additional features in just a few clicks.
Comfortable with PHP? Build your own module, and the sky is the limit.
» View core modules or downloadable extensions
#3: Excellent Support
The best support is the one you don't need, so we write lots of documentation and FAQs. Of course, keeping the interface and tools intuitive helps keep the learning curve gentle, too.
If you do need help, we're only an email away for a same-day response.
» Browse documentation or FAQs
Looking for premium support options? Email Mark for pricing.
New in Commerce v1.0
Released May 2019.
All-new multi-currency pricing
Bulk and time-based sale price types
Give away free products for qualifying orders
Powerful PDF invoice generation
Improved dashboard security with automatic XSS filtering
New in Commerce v0.12
Released February 2019.
Automatic discounts for users and user groups
Restrict dashboard access with new permissions
New Product Matrix TV to manage products with 2 attributes
Tax summary report to simplify filing taxes
Improved custom order fields
New in Commerce v0.11
Released May 2018.
Hide shipping step depending on delivery type
Apply taxes to shipping costs
Make transaction information available in emails and checkout
Allow payment methods to be restricted to specific shipping methods
Add primary product image
Support custom order shipments, and make shipments manageable in the dashboard
You've got questions, we've got answers.
Request a free 30-minute introduction
Choosing the right e-commerce solution is hard. There are dozens of features to consider, integrations to keep in mind, and (unless you're the lucky one!), budget isn't infinite either. You'll be building a business or fundraising effort, so want to be sure the platform is right.
For your first time working with Commerce, we'd be happy to walk you through its powerful functionality, and answer all your questions, in a free 30 minute call. Request a call via email and we'll give you available timeslots in the next few days.
Just want to try it out? Grab a free development license to use everything Commerce has to offer on a test environment.
What people say
What initially made me really like Commerce compared to other commerce solutions was how flexible the template system is. The checkout template included with Commerce is great out of the box already, so it just needed a few aesthetic and mobile tweaks to match our site and the design done. However, if you needed to dramatically change the checkout design all the power is there. Tony Klapatch
---
Buy Commerce for € 299 per store
Already convinced?