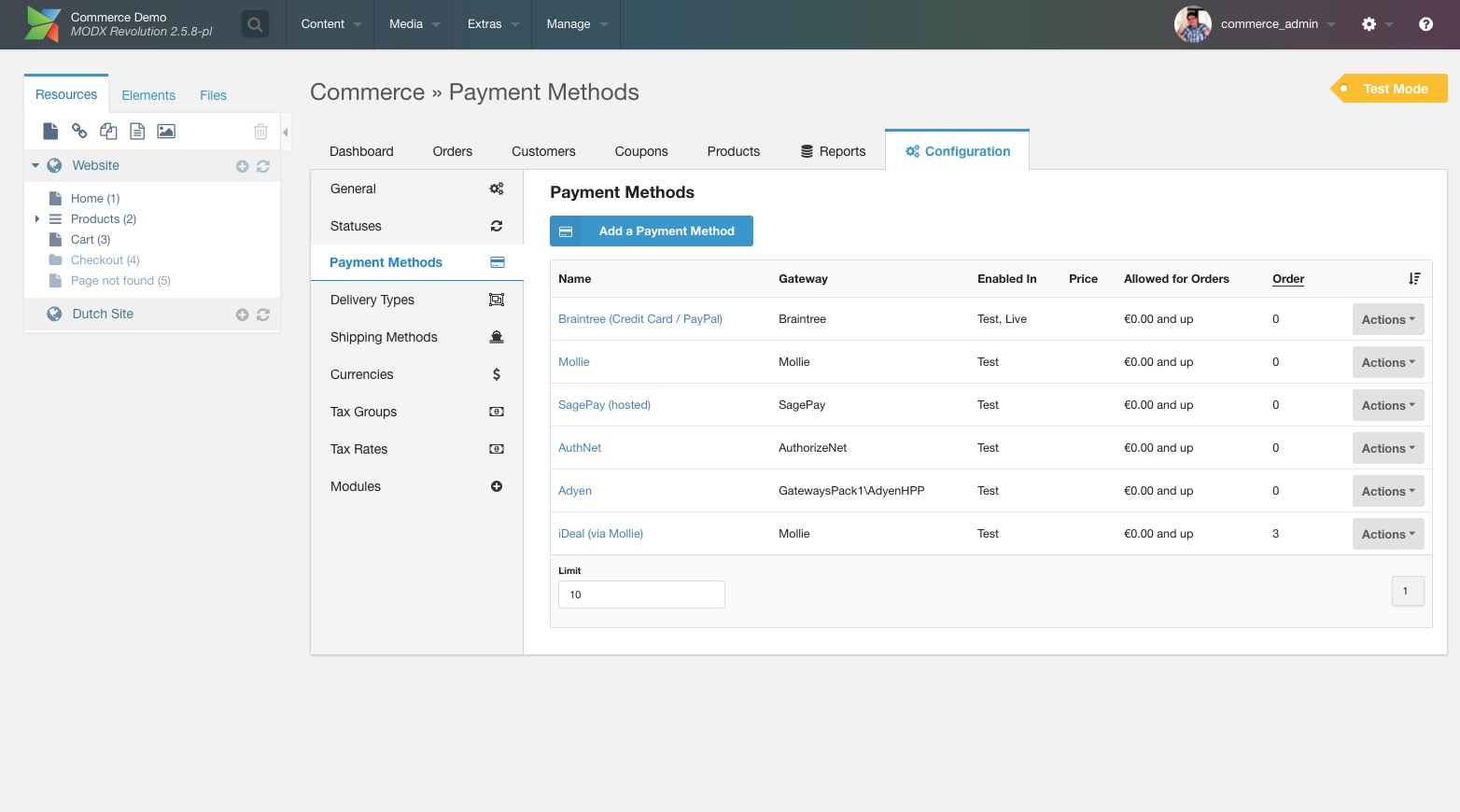 Commerce
v1.0 now available!
Commerce makes it easy to sell online exactly the way you want. Extend functionality with our Payment Methods and Modules or build your own.
Commerce is available exclusively from modmore at € 299 per license. Each license is valid for a single MODX installation. Standard support and lifetime updates are included in every purchase.
Are updates included?
Yes, lifetime updates are included in all purchases. For single licenses updates are limited to minor releases (e.g. 1.3 -> 1.4), which include new features and improvements, and patch releases (e.g. 1.3.0 -> 1.3.1), containing bug fixes.
Can I try Commerce for free?
Yes, you can use our free development licenses with Commerce to try it, or to start development before purchasing a license. With free development licenses, you can install this extra on domains that are on our whitelist, for example localhost, site.dev, dev.site.com.
When you've moved the site live, we'll email you with a link to replace the development license with a proper one. Learn more about development licenses here.
What is unlimited standard support?
Standard support gives you access to our email support for as long as the major version you're using is supported. When a new major version comes out, you can choose to upgrade to renew your support and get new versions. We also offer a community forums for your questions and discussions about Commerce.
Learn more about standard unlimited support »
Which payment methods do you support?
Credit Card (Visa, MasterCard, Maestro, American Express), PayPal, iDeal, Bancontact/Mister Cash, SOFORT Banking, SEPA Bank Transfer, Belfius Direct Net and Bitcoin.
If you've been part of the earlier beta, check your email for a discounted license.
Free development licenses are available for development, and for trying out Commerce prior to purchasing a license.
For non-profit organisations that do good for the world we offer a non-profit discount.
All license purchases included our standard email support. Send us an email with any question, and we'll respond as soon as we can. We also have a community forum where you can discuss Commerce questions with other users, which we also visit frequently.
For businesses whose income relies on their Commerce-powered webshop, we offer premium support subscriptions with guaranteed response times and credit refunds if we fail to respond in time. This support is per project/site, with increasing discounts for agencies covering multiple shops.
Guaranteed Support: 24 hour response time via email
Priority Support: 5 business hours (Monday - Friday, 9am - 7pm UTC) via email
Live Support: 5 business hours (Monday - Friday, 9am - 7pm UTC) via email, live chat or call back
Support subscriptions are are billed quarterly, or yearly with one month free.
Please contact Mark via [email protected] if you'd like to learn more.