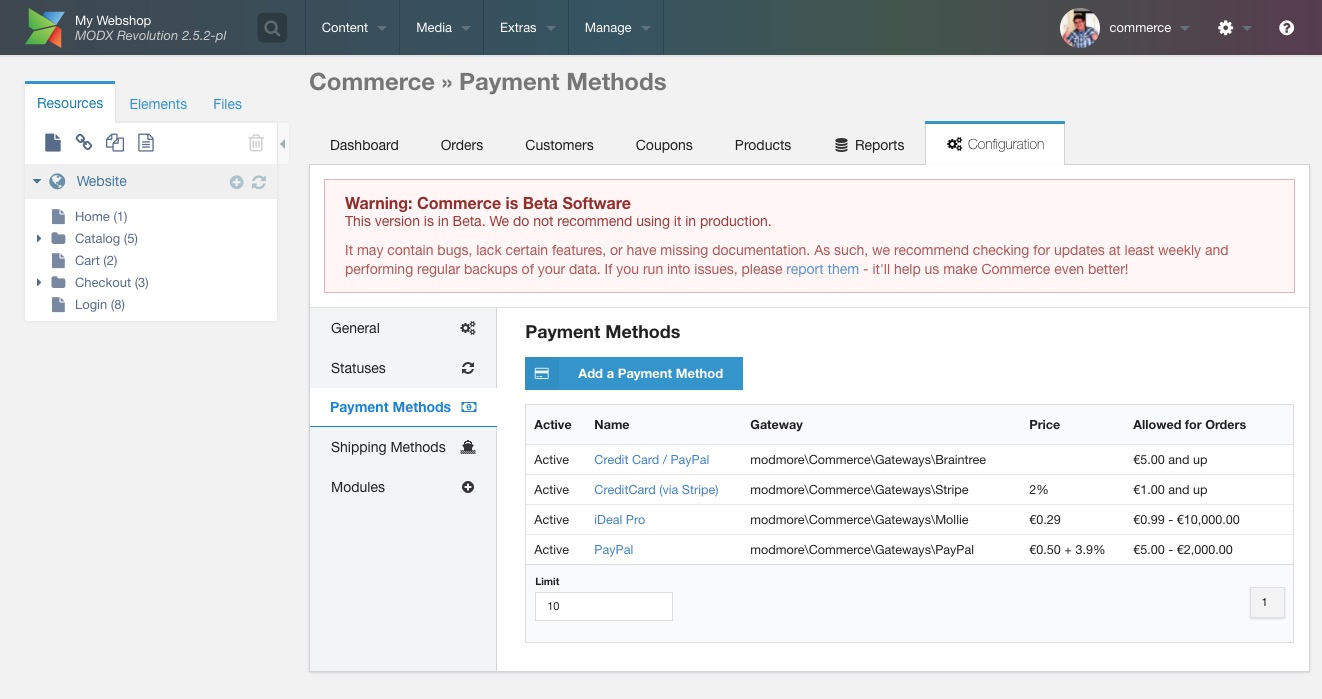 Commerce makes it easy to sell online exactly the way you want. Extend functionality with our Payment Methods and Modules or build your own.
Commerce is priced at €299 per license. A license is valid for one MODX installation, and includes all future 1.x upgrades and 1 year of support.
Free development licenses are available for development, and for trying out Commerce prior to purchasing a license.
If you need a full license during the alpha testing phase, please contact [email protected] When Commerce reaches beta, you will be able of purchasing a license from this page.

Are you doing good for the world through a non-profit organisation? If all criteria below are met, we'd be happy to provide you a 50% discount on a Commerce license. A non-profit discount must be requested in advance, we do not provide refunds after a license is already purchased. (You can of course start development with a free development license.)
the organisation is registered as a non-profit/charitable organisation with the tax service or charity commission in the country of origin.
the organisation is not affiliated with, or promotes, any political party, lobbying or political activist group.
the organisation is not a governmental institution or (partially) owned by a governmental institution.
the organisation is not a church, mosque, or other religious/evangelical organisation.
the organisation is not a school, college or related organisation.
the organisation does not discriminate on the basis of gender, race, ethnicity, national origin, religion, political affiliation or beliefs, sexual orientation, or gender identity or expression.
the organisation does not promote a particular religious affiliation, dogma, or doctrine as part of its mission, or in exchange for its services.
The goal of these criteria is to ensure non-profits with limited resources are able of using Commerce to raise funds. As modmore does not intend to get involved with politics or religion, including deciding which are "right or wrong", any such organisation is excluded from this program entirely.
When the build or maintenance of a project is done by a third party (such as a marketing agency or freelance developer or designer), we require their services must be free or include at least a 30% discount in order to qualify for the discounted license. Either the third party or the organisation itself may submit a request for the non-profit discount.
If you believe your organisation meets the criteria, please send an email to [email protected] with at least the following information:
Registered or legal name and address (including country) of your organisation
Registration number with the local tax or charity office and name of the registration office, including a copy of the registration if you have it
Description of your organisation's primary mission in 100 words or less
Name and contact information of the person/organisation that will build or maintain the project
The modmore.com username that should be used for the invoice and license
Following an initial assessment we may ask for additional information. We'll decide within two weeks if you are eligible for the discount. If we approve your request, we will create an invoice for the discounted license which will be assigned to your account upon payment receipt.
If your request is denied, there are no appeals, however if the status of your organisation changed or we've adjusted these criteria, you may of course choose to reapply in the future.
(These criteria are loosely based off Slack's non-profit criteria.)
---