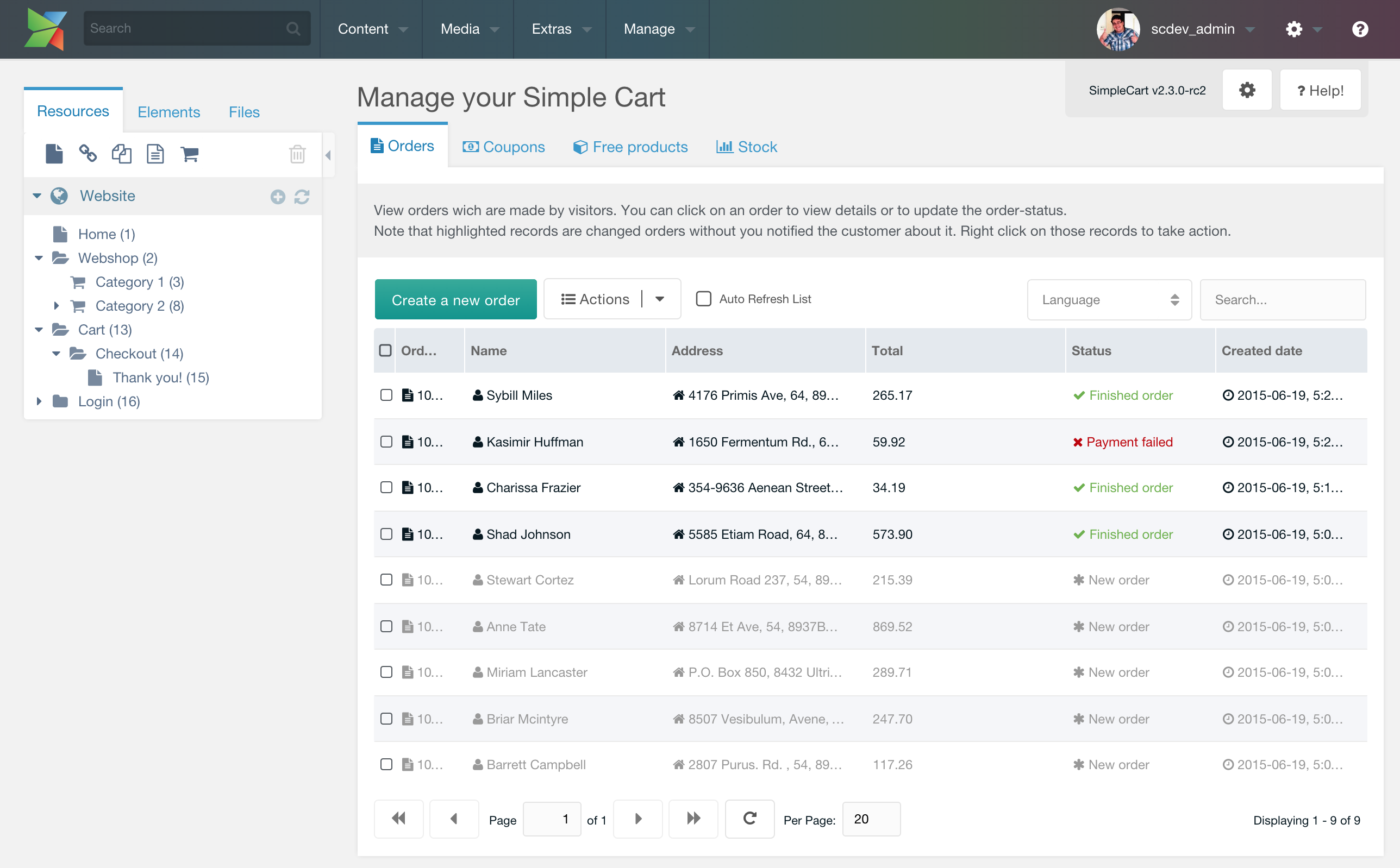 SimpleCart is an easy to use e-commerce solution with online payments, coupons and more for your MODX site.
---
Migrate SimpleCart Licenses to modmore
In June 2015 the modmore team took over development of SimpleCart. Licensing and support are now handled by modmore.com, and old licenses need to be migrated to receive updates and be eligible for support. All SimpleCart users with valid licenses (new and old!) are invited to use the tool below to move them to modmore.
To be able of migrating your license, you'll need to know (1) the username or email which you used to login to modxsimplecart.com, and (2) the Migration Key, which can be found in Account > Your Profile on the SimpleCart website. When these details are correct, we assign the SimpleCart licenses to the logged in modmore.com account which you can use to upgrade your existing installs to SimpleCart 2.3.
The migration will assign one license for each domain SimpleCart has been installed on. In the case of unused licenses, you'll get 2 licenses (one for production, and one for staging). It is only possible to migrate licenses once.
All SimpleCart licenses created after December 3rd, 2014 receive a support extension until June 3rd, 2016, completely free.
For licenses created before December 3rd, 2014, support is not included, but a one-year support extension is available at half the normal license price (starting at €49,50). We recommend purchasing this extension if you have a live shop to make sure you can take advantage of our support. Support renewals are available from the Purchases page in your account after migrating the licenses.
If you're having trouble migrating your licenses, please contact [email protected]
After your licenses have been migrated, here's what you need to do to update your SimpleCart installation:
Visit the modmore API Keys page to create a new API Key. Note: at modmore, an API key is only used as login to the package provider, it is not tied to a license.
In your site's MODX Manager add the modmore package provider using your API Key.
On the Packages tab, click the arrow on the Download Extras button, and choose Select a Provider. Choose the modmore.com provider.
In the Package Browser, either search for SimpleCart or browse to Premium Extras > SimpleCart. Choose the Download option on the SimpleCart package.
Go back to the Packages tab, and install the package.
In the future, updates from modmore will be highlighted on the package with the familiar Update button.
---